RFID card door lock is still one of the most used smart locks among hotels, and it can protect your hotel to the largest extent at the lowest cost. The hotel key cards usually include IC card, TM card, Temic card, and Mifare card. The hotel should choose the right RFID card door lock according to its own characteristics and position.
1. Types of room card
The commonly used cards mainly include IC card, TM card, Temic card, and Mifare card. Each card has its performance and characteristics, the hotel needs to combine their characteristics to choose the best hotel room door. Here we list all the main characteristics of all the cards for your reference.
| | | | | |
| --- | --- | --- | --- | --- |
| Card Type | IC Card door locks | TM Card door locks | Temic Card door locks | Mifare Card door locks |
| Ease of Use | Good | Good | Very Good | Very Good |
| Portability | Convenient | Convenient | Convenient | Convenient |
| Reuse rate | Ordinary | Excellent | Good | Good |
| Antistatic | Ordinary | Good | Ordinary | Excellent |
| Abrasion resistance | Ordinary | Excellent | Good | Good |
| Security | Good | Ordinary | Better | Best |
| The cost of door locks | Middle | Low | Middle | High |
| Maintenance cost | Middle | Low | Middle | Middle |
| "One Card System" scalability | Ordinary | Ordinary | Ordinary |  Best |
| Best Use Occasion | Suitable for card reused mid-sized hotels or low-end indoor hotels | Ideal for a variety of harsh environments, mostly outdoor hotels and budget hotels with heavy salt and water in villas and seaside | Ideal for card reused mid-range or mid-range hotels | Suitable for mid-to-high-end hotels or large-scale intelligent hotels that need to implement the "One Card System" function truly |
2. Hotel environment
When purchasing a smart lock for a hotel, the environment is often ignored by many people. As the lock is made of metals, it is often afraid the humid, salty, and corrosive environment. In order to extend the lock lifetime, the PCBA  inside the lock must be moisture-proof and anti-corrosive, and the clutch or motor components must be modular and fully enclosed.
If your hotel near the beach, you should pay more attention to choose an RFID hotel lock that has good features of moisture-proof and anti-corrosive. Nano processed hotel door locks will be a good choice.
3. Materials for hotel lock panels
When talks about smart lock purchasing, people often used to look at the appearance, the material is often overlooked. In fact, the quality of the material will directly affect the lifetime of the smart lock.
The common materials for hotel room locks include stainless steel, zinc alloy, surface acrylic, and aluminum alloy. Stainless steel and zinc alloy are mainly used for hotel gate locks! Here is the main difference for these types of hotel lock panel materials.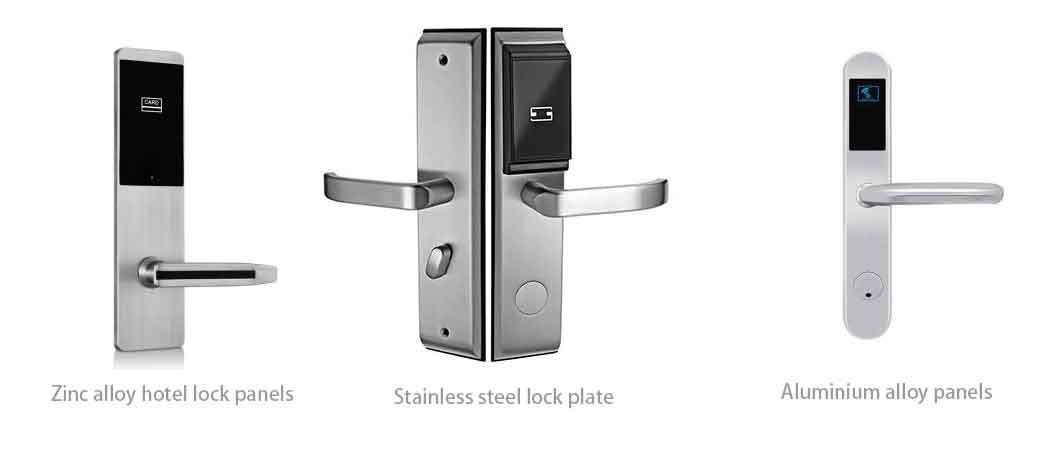 a. Zinc alloy hotel lock panels
This material is softer than stainless steel and is easy to forge and process. Zinc alloy can be designed freely, and the production difficulty is small. The high-grade, luxury, fashionable hotel door lock is often made of zinc alloy. But its anti-rust is worse than that stainless steel, so zinc alloy lock is easy to be destroyed by violent impact from outside.
b. Stainless steel lock plate
The stainless steel can be divided into 202, 304. The real stainless steel is 304, and the others just can be called stainless iron. Stainless steel smart lock has the advantages of sturdiness, corrosion resistance, violent resistance, and so on. And it has the features of anti-counterfeiting, anti-drilling, fireproof, and anti-chainsaw when using in the smart lock.
But stainless steel is not easy to shape, with almost no design space. These smart locks with a simple appearance are mostly made of stainless steel. The biggest advantage of the RFID smart lock of stainless steel is its durability, this is also the main reason why stainless steel smart locks have been popular for so long time.
c. Aluminium alloy panels
Aluminum sheets are soft and low in strength and are widely used in smart locks for hotels and apartments due to their low cost and easy shape in the latest years.
4. RFID Hotel Lock System Functions
The system functions of an RFID hotel lock will directly affect the convenience of your guests. The main functions of RFID hotel door locks should include security, stability, overall life expectancy, and lock management system.
1. Security
The mechanical structure still plays a key role in electronic hotel door locks, especially the cylinder technology and clutch motor technology. Guests should have a good understanding of the structure design and care about its quality.
2. Stability
What guests fear most when staying in a hotel is that the door does not open when it should be opened and does not close when it should be closed. Every time I stay in a hotel, I check the hotel lock carefully, especially when I am alone. If the lock can't work properly, it will be made me very worried.
There are three main factors that affect the stability of hotel electronic door locks: mechanical stability, motor stability, PCBA stability, and anti-interference ability.
The mechanical stability is especially affected by the mortise and clutch structure. To stabilize the working state of the motor, it is necessary to check whether the motor is RFID electronic door lock special using. The stability and anti-jamming ability of logic circuits mainly depend on the protection circuit design.
3. Overall life of locks
The life of the lock mainly depends on materials and the manufacturing process, in order to meet the long-term economic benefits of the hotel, the overall life of the electronic RFID card lock should not be less than 10 years.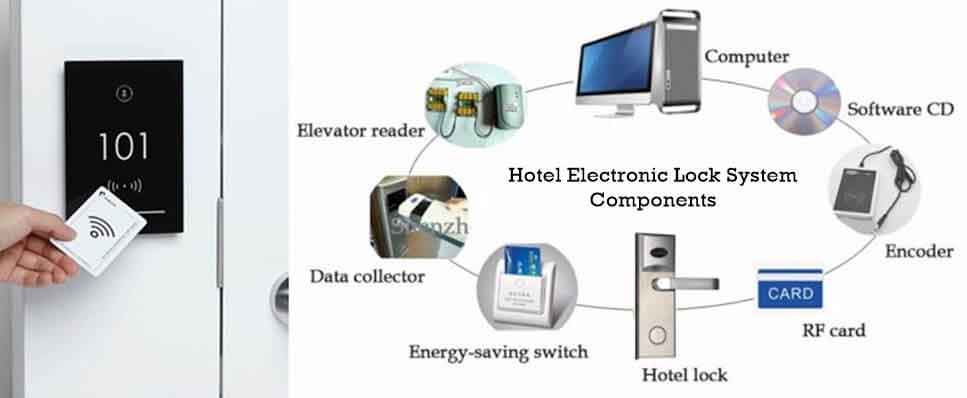 4. Hotel door lock management system:
For the hotel, the hotel lock management software should meet the hotel's standard management. The management function can not only provide convenience for guests but also improve the overall management level of the hotel. Therefore, the best electronic door locks with the following integrated hotel management functions:
Lever management function: After setting the RFID hotel door lock, the different lever door card will take effect automatically;
All key cards have the function of the time limit.
A perfect function of opening and recording, mechanical key unlocking, and recording are supported.
The software system runs stably and reliably, supports large data capacity and low-cost maintenance, can solve the technical interface of the "one-card" system very well.
Mechanical key emergency unlock function; Emergency card escape setting function;
Automatic alarm;
Support elevator controller management, energy-saving switch management, maintenance lock management.
It has the function of passage mode, which is convenient for the meeting.
Support extended functions of the system, such as managing the staff office, public channel, private channel, and the interface with other hotel systems.
Single card function
It is mainly used for hotel card implementation solutions. The same smart card can be used to expand the door lock, telephone, attendance, CCTV billing, catering, entertainment, consumption, parking…
5. Conclusion
Zinc alloy door locks are widely used in hotels because of their durable and beautiful appearance. Stainless steel lock in the hotel application is relatively small, because of its excellent anti-rust performance, not afraid of the sun, many users choose to install it outdoors.