More and more hotels, rental houses, apartments, homes, and resorts are utilizing a hotel door lock system to boost guests' experience during their remain. You can open the hotel door with a PIN, a chip card, fingerprint, or app.
According to whether there is a need for access to a stable Wi-Fi or Bluetooth connection to work, the hotel door lock system can be divided into an online lock system and an offline lock system.
1. Offline Hotel Door Lock System
Offline hotel door lock system doesn't need to rely on the Wi-Fi/Bluetooth connection, the most common offline hotel door lock system includes the traditional mechanical door locks, digital combination lock system, and RFID locking system.
#1 Mechanical door locks
Mechanical door locks are the simplest and cheapest door lock, and their installation is very easy. It has different lock cylinder mechanisms, like reversible or wrench keys.
However, it is not very convenient for the elderly and the disabled. Now, the hotel industry rarely uses old good keys. Here is a brief introduction to the advantages and disadvantages of traditional mechanical door locks system:
Advantages:
Disadvantages

Cheaper price
Trouble-free installation
A lot of options to match the style of your hotel
The ease of use

The key can be lost or copied
Vulnerability to lock-picking
No extra functions aside from locking and unlocking
No opportunity to add value to your hotel
Lack of convenience for the elderly and disabled people
#2 Hotel Key Card System
RFID locks are widely used in hotels because the password card can be reprogrammed for each guest, we often called hotel key card systems.

RFID is the abbreviation of "Radio Frequency Identification", which means identification through electromagnetic waves. Programming a special chip and building into a small transponder, and place it on the door. The authorization check is performed through radio frequency data transmission.
Depending on the supplier, the guest's transponder can be produced as a key fob, card, special bracelet, etc. Here is a brief introduction to the advantages and disadvantages of hotel key card system:
Advantages
Disadvantages

Full-time control over the door;
An opportunity to program the key for each guest specifically;
Suitable for disabled people with physical limitations;
Low level of hack vulnerability

Higher cost compared to an ordinary lock;
In case of a power failure, an RFID lock cannot be opened
#3 Digital Combination Lock
This digital combination lock can be opened by entering the correct sequence of numbers with the keyboard or touchpad. Compared with the touchpad, the small keyboard is splash-proof and has a small surface area, so it is not easily damaged. Here is a brief introduction to the advantages and disadvantages of Digital Combination Lock:
Advantages
Disadvantages

An opportunity to easily pass the PIN;
Multi-user access;
Possibility to use several PINs;
Splash-proof keypads;
Low level of vulnerability

It is possible that unauthorized persons can get the code and enter the building.
2. Mobile App Smart Hotel Lock
An online hotel door lock system is to uses a mobile app to unlock the door. It pays more attention to hotel management. There are two main online hotel lock systems, digital keys and smart locks for Airbnb.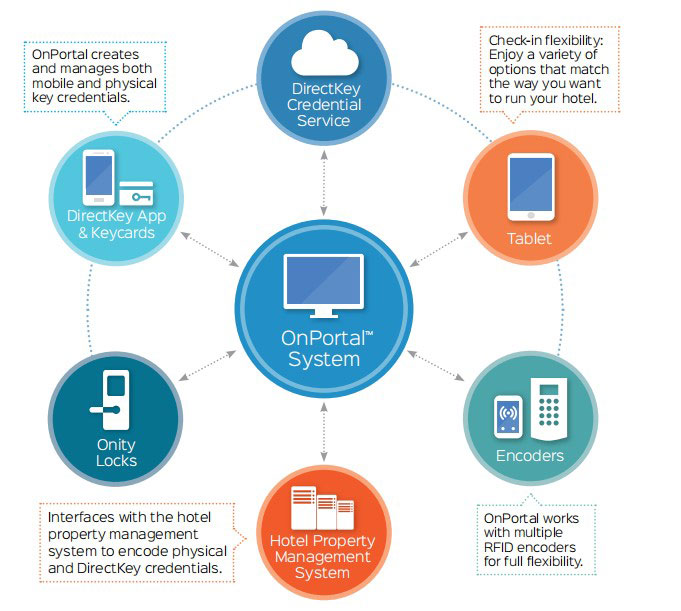 Mobile App Smart hotel locks are also known as digital keys. It allows guests to unlock a door with an app on their smartphone. This type of smart hotel lock can provide more secure, convenient, and sustainable access to the room than a traditional key. It is not only used as a hotel door lock but also in many rental houses, apartments, homes, and resorts
Smart lock for Airbnb is to use mobile phone send the e-key or password to guests. With a smart lock for Airbnb, guests are able to request check-in remotely and the hotel is able to send them a digital room key or pin code before they arrive, allowing them to proceed straight to their room.
Advantages
Disadvantages

Fast Check-In possibility;
PMS integration;
Easy door opening with a mobile phone;
Various app functions;
Multi-user access

Wireless connection is necessary;
Availability of a smartphone with a charged battery is necessary as well
3. Conclusion
With the development of mobile technology, the mobile App smart lock will be increasingly used in more and more hotels. But it not means that it is a good choice for your projects at present, this technology is still new and expensive. You should choose the right hotel door lock system according to your budget and project situation.