Compared to traditional hotels, more and more young people are increasingly choosing to stay in personalized and cost-effective homestays, hotels, guesthouses, etc. With a smart lock for Airbnb, guests can enter the hotel room through the mobile E-key or the password, and the landlord just needs to manage the smart door lock remotely through the mobile APP. The smart locks for Airbnb make you escape a lot of troubles, including the hassle of key exchanges, early check-ins, late check-outs, unauthorized access, etc. Both the hotels and guests can save a lot of time and get huge convenience from the smart lock for Airbnb.
1. What is smart lock for Airbnb?
Airbnb is a world-famous short-term rental apartment booking platform, it features 7 million featured homestays, short-term rentals, hotels, apartments, and inns worldwide, covering short-term rental homes in 191 countries and regions.
If you have a spare house, you can put it in Airbnb and earn some income, but the risk is that the guests might bring some damage to it. To solve this problem, Airbnb suggests the host install a smart lock to improve the experience of check-ins and check-outs, it can benefit both host and guests. That's why more and more smart lock manufacturers develop Airbnb compatible smart locks.
A smart lock for Airbnb allows the landlord to manage the smart door lock remotely through the mobile APP. Without a software or OS access system request, the host can directly issue the e-key or password to the guest, and the guest can enter the designated area through the mobile E-key or the password.
Some brand smart locks can be directly integrated with Airbnb account, the guests will be sent unique access codes as soon as they finish the booking on Airbnb. Besides, there are also some smart locks that can support several 3rd party systems, such as HomeKit, Z-Wave, TT lock App. When choosing a smart lock for their property, people often consider multi factors, such as price, support system, quality, etc.

2. How do you use Smart Lock on Airbnb?
When receiving an order from Airbnb, the owner or hotel staff send the guest electronic keys or numerical codes to access the designated area, such as hotel, room, garage, and any other place equipped with Airbnb smart lock.
You will get a notification when the guest opens any smart lock. After the guests checking out, the hotel can cancel and delete E-keys or numeric codes with their administration permission. Anyway, the smart locks for Airbnb can bring the hotel a security and control experience.
For guests, after using a smart lock for Airbnb, your arrival time and unexpected delays is no longer matter. Before starting their trip, guests receive the following information on their Smartphone:
Electronic key and/or access codes for locks,
Access control for the main hotel entrance, as well as their room, garage, and any other area equipped with an access control system.
With an Airbnb smart lock, the guests can get a very convenient living experience.
3. What smart locks work with Airbnb?
As there are so many Airbnb compatible smart locks, ilockey don't tell you which brand smart lock you can choose, here are some suggestions to tell you what smart locks work with Airbnb.
Direct Airbnb Booking Integration
By integrating your listing's calendar to the Airbnb API, you can send them access code information via email or text, so that they can get your personal timed access code for the rental lock. When someone making a booking on Airbnb, they will be received automate correspondences with access code information.
If Airbnb is the main rent platform for your house, choosing a smart lock with direct Airbnb booking integration is the most efficient way.
The main function for Airbnb compatible smart locks is self-check-in. To guarantee this function, your lock should be first a keyless lock. Although there are several ways for accessing, such as fingerprint, RFID card, password, mobile app, only 3 typical ways are provided by Airbnb compatible smart locks for guests to access the door:
The guests are required to download the lock's app, and the lock app will give their access and check-in information.
By Built-in or touchscreen keypad controls
By an add-on keypad
When receiving the booking order from Airbnb, you need a manual to send the access information to your guests. It seems a bit more trouble than the smart lock with direct Airbnb booking integration, but it also the simplest and cheapest smart lock solution for Airbnb.
For some simple smart locks, you can't change the password remotely, so you need to change the password once the guests leave your house. This solution is suitable for a personal homestay, short-term apartments.
Smart lock with customer integration
For some chain homestay apartments, they hope the smart lock can help them to manage their rooms well. Here are some common functions they require for smart locks:
Monitor the hotel status in real-time
Self Check-in & Check-out
One-to-one customer communication
Opening alerts
Remote management
The smart lock with customer integration is not a simple Airbnb smart lock anymore, but a whole set of hotel lock systems. You will not only pay for the smart locks but also need to pay for the management system. It is suitable for chain hotels, apartments.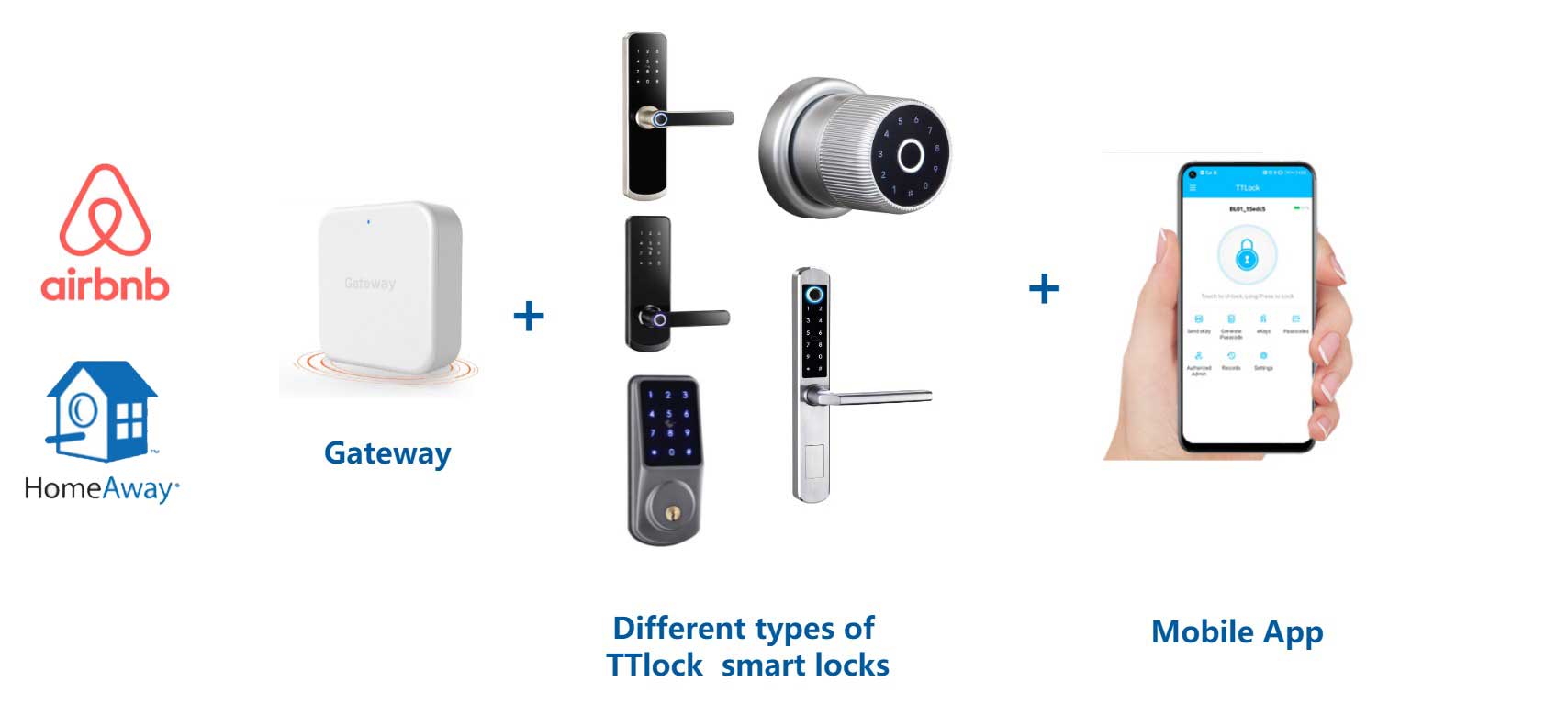 4. Things to consider before choosing your Airbnb compatible smart locks
Before you start to choose your Airbnb compatible smart locks, some things you should consider in advance.
Unique temporary access codes
Your smart lock for Airbnb should provide unique temporary access codes, it directly affects your house security. When the guest finishing the booking, he will be sent an e-key that expires once their stay is over. In this way, you don't need to worry about your guests can open your door outside the time of their reservation.
There are 2 connective ways for a smart lock, WIFI, and Bluetooth. If you chose Bluetooth, we suggest you take a gateway as well since Bluetooth smart locks are not suitable for long-distance connection, so the best solution is Bluetooth lock+gateway, what's more, direct WIFI Airbnb smart lock is a good option.
After connecting your smart lock to your rental WIFI network, you can monitor the lock activity on your mobile phone from anywhere in the world. It is a very convenient and useful function because it allows you to keep track of who comes in and out of your house at any time, whether it's guests, cleaning staff, or maintenance staff.
Integration with home automation platforms
If you want the Airbnb smart lock to work with your other smart home device, this function will attract you very much. By using a home automation platform, you can manage and monitor activities across all devices in one App. For example, when your smart lock connecting to Amazon's Alexa or Google Assistant, you can control it with your voice.
Integration with a messaging automation tool
By integrating the smart lock with the information system, you can use the smart lock activity as a trigger. When someone locks or opens the door, you can send automatic messages to guests or cleaning staff. This function will benefit a lot for hotel management, and it is still be developing by the smart lock supplier.
5. Airbnb Smart Lock Integration FAQ
6. Conclusion
Smart lock for Airbnb is a keyless smart lock solution for personalized and cost-effective homestays, hotels, guesthouses. With the increase of demand from young people, more and more chain hotels choose smart locks to improve their competitiveness. Smart lock for Airbnb is another successful application for smart locks.