Hot Selling WIFI Smart Lock
Ilockey- WIFI Smart Lock Supplier
Support user management, fingerprint management, password management, message management, card management, setting and deleting individual users, security Alarm.

All types of smart lock mortises are available: single latch, deadbolt, ANSI and Euro mortise, even double sides fingerprint rim lock

Widely used in Tuya apartment, Tuya consumer security, Tuya hotel…
Main Features of WIFI Enabled Smart Lock
True Low consumption WIFI module, 4 AA batteries can last 6 months
WIFI stays at sleeping model default, wake up by touch the keypad appointed No.,












WIFI Smart Lock – Definitive Guide
By installing a built-in wireless communication module, a stand-alone electronic lock can be transformed into a smart door lock. The common wireless communication protocols include Bluetooth, ZigBee, WiFi, NB-IoT, etc, and Bluetooth is the mainstream. However, more and more smart door locks are expected to support the transmission of larger files such as pictures and videos, WiFi with fast speed and wide coverage is welcomed by developers.
What is WIFI Smart lock?
A WIFI smart lock is an electronic lock with a built-in WIFI module, it consists of an intelligent monitor and an electronic lock. By connecting WIFI, WIFI smart lock allows you to lock and unlock your door from your Android or iOS devices when you're not home.
It can support many great functions, including remote control, user management, fingerprint management, password management, message management, card management, setting and deleting individual users, security Alarm.
Wide coverage
Normally, the Bluetooth technology covers only about 15 meters, but WIFI communication distance can reach 305m in an open are and 76-122m in a closed area. Wide coverage allows WIFI suit for wider applications.
Fast speed and high reliability
The highest bandwidth of WIFI technology is 11Mbps. In the case of interference or weak signal, the bandwidth is automatically adjusted to effectively ensure the reliability and stability of the network.
No wiring required
WIFI technology is not restricted by wiring conditions and is very suitable for mobile office users. Nowadays, WIFI technology has expanded from special industries such as inventory control, traditional medical care and management services to a wider range of industries, and has even begun to enter educational institutions and households.
Health and safety
The actual transmitting power of WIFI technology is about 60-70 milliwatts. The transmit power of a mobile phone is about 200 milliwatts to 1 watt, and a handheld walkie-talkie is up to 5 watts. As don't need to contact the human body directly, the wireless network is safe.
WIFI Smart Lock Features
WIFI smart lock is developed in these recent years, and it is welcomed by users very fast because of its following main features.
Multiple unlocking methods
Multiple unlocking methods are available for WIFI smart lock, including password, fingerprint, RFID card, and mobile app. WIFI door lock with camera, you can even open the door with face recognition. A WIFI electronic lock enables you to unlock it remotely.
High security
WIFI smart lock supports the function of security Alarm. When there is an unknown unlocking like lock picking, the smart locking system will alarm automatically. At the same time, it also supports false lock alarms, anti-hijacking fingerprints, anti-test opening alarms, and battery low-voltage alarms.
Advanced Function
By connecting with your management system, your WIFI smart lock will provide you a smart keyless entry system for your hotels or apartments. The functions include user management, fingerprint management, password management, message management, card management, setting and deleting individual users.  There are no integration or third-party dependencies required. Meanwhile, Ilockey provides a mobile access SDK together with dedicated onboarding services to facilitate seamless integration.
Remote Control
The remote control is the biggest selling point, it has captured a large number of users with their great convenience. A hotel or real estate project equipped with WiFi smart door locks often attracts a large number of users with its novel and convenient experience. Obviously, WIFI smart door locks are used by more and more industries.
How to use WIFI smart lock
Different WIFI smart locks have a bit different in their usage, usually, it includes following steps:
Set administrator password
Add mobile phone
Connect the mobile phone to the lock.
Control the lock remotely
Here we will use an example to show you how to use the WIFI smart lock step by step.
Set administrator
After installed your WIFI enable smart lock, you need to set an administrator first. Normally, you can press the "*#" key on the bottom to enter the management interface, then the lock system will remind you to input the admin user, enter the default admin code 123456, and press 1 for administrator setting, press 1 to add admin, input administrator info with # confirm.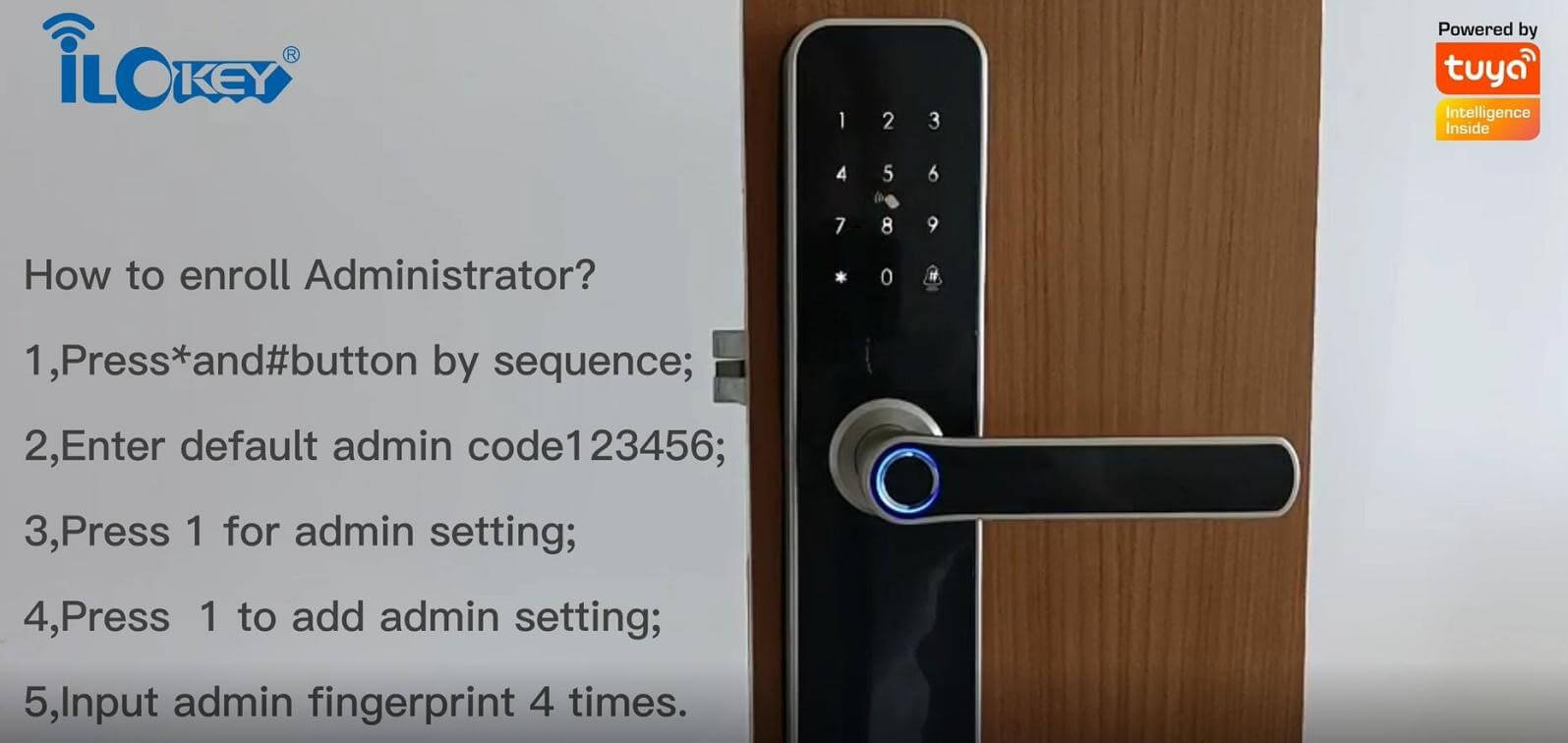 After finish the setting, you can try to unlock the door with the administrator password. Just input the password and press the "#" key or the right bottom, the door will open.
Register account
Open the Tuya app for your lock, then use your phone number to register an account.
After you log in to the APP, on the right, you can see "+", click it and choose to add a device. You need to enter your WIFI name and password in your home.

Connect the Tuya App to the lock
After finish the administrator set, you can start to add your mobile phone to the smart locking system. Press the "*#" key to enter the management interface, then input the administrator info.
Press 1 for administrator setting, press 3 for network setting, and then press 2 for intelligent collection.
Number "5" will blink rapidly, turn on the Tuya App for setting.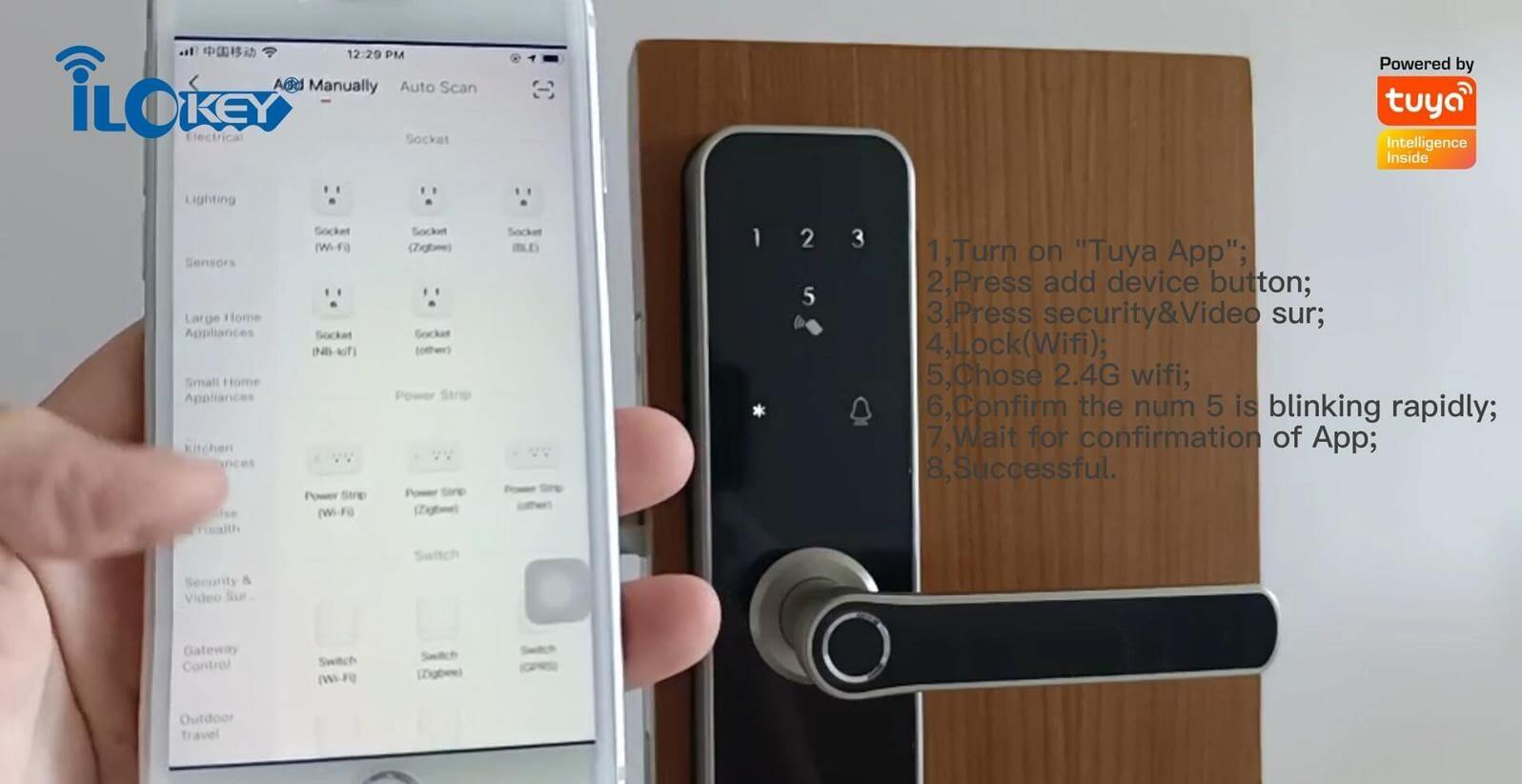 Open the" Tuya App" press add device button, chose security&Video sur, Lock(WiFi) After you log in to the APP, on the right, you can see "+", click it and choose to add a device. and then enter into WiFi setting step, chose 2.4G WiFi, you need to enter your WIFI name and password in your home, during the configuring process, the Number"5" is blinking until confirmation by Tuya App, then successful adding.
Remote unlock by Tuya App
When the visitor press the number 9 and # by sequence, there is one remote unlocking request send to the administrator in the App as the photo, you can press the "click open remotely" to unlock the door.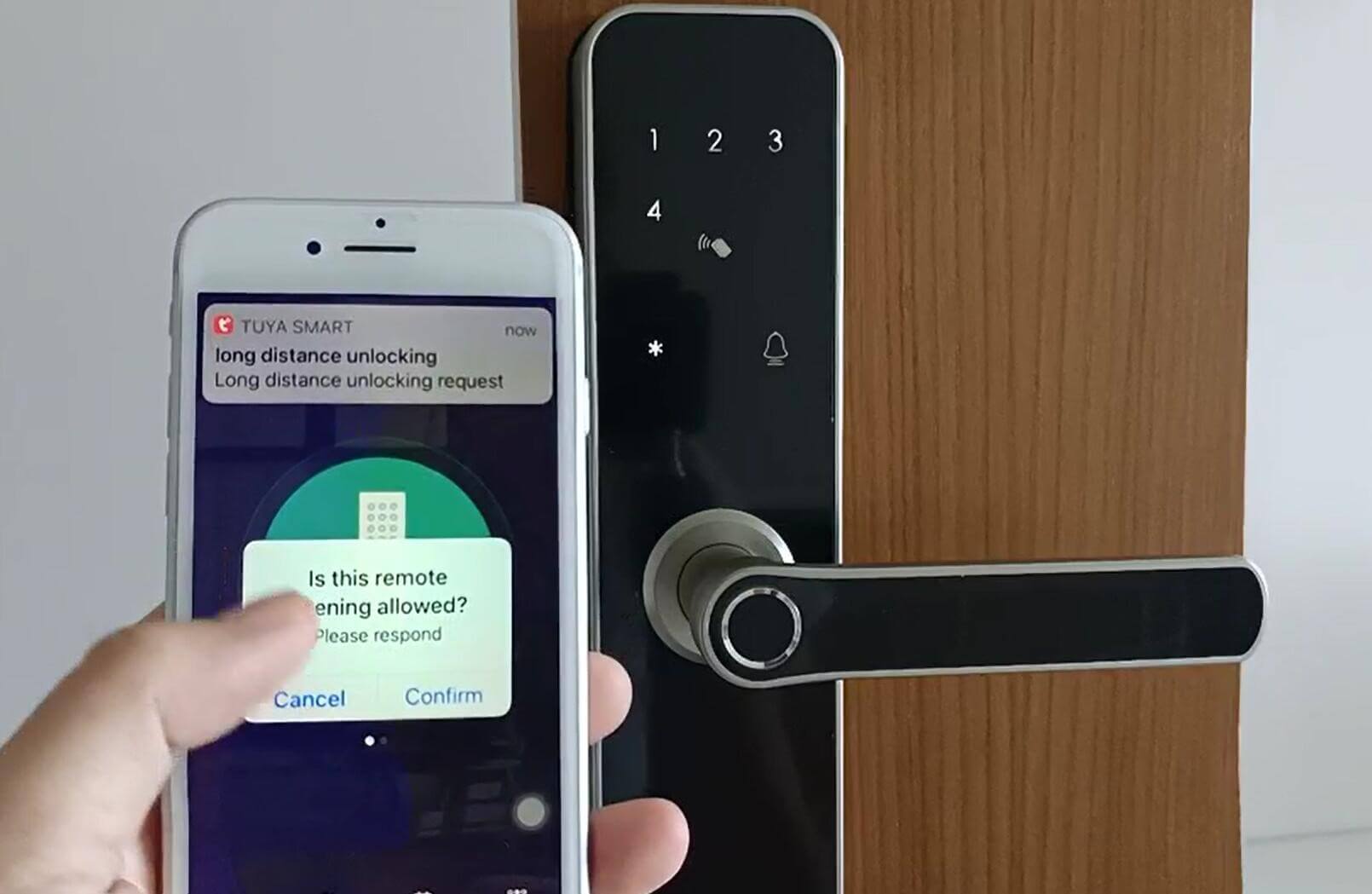 Conclusion
There is no doubt that WIFI smart lock will be more and more popular in the further, and finally become a basic member in the smart home. At present, this technology is still not mature, most WIFI smart locks have high power consumption. However, it also means great profits if you enter this field now. I think the high power consumption will be solved in not long future.