Smart Lock is a keyless door lock, which allows you to open the door without a mechanical key. With a smart lock, you can open your door with a password, fingerprint, RFID card, or even Bluetooth. People often called smart locks intelligent deadbolts, they are becoming more and more popular with safety-conscious families for good reasons: tough, convenient, and easy to use.
When talks about a smart lock, many people will have this question: do I need a smart lock? In general, people will consider using a smart lock because of the following reasons:
Forgot to bring the key
The key broke in the lock cylinder
The door is locked in a hurry
The elderly and children at home are more likely to lose their keys
1. Is a smart lock worth it?
There are two main advantages of a smart door lock system that you can't deny, safe and convenience. Aside from providing all the benefits by traditional locks, some smart locks have their ways to make your life easy:
Control your lock anytime, anywhere
No matter where you are, you can control your front door with a smart lock. As your smartphone can act as a key, there is no need to rush home before the guests or a delivery driver; just log in to your app and unlock your front door.
No need to find keys any more
If you have ever stood at the front door and rummaged in your bag to find the key, you will love this keyless feature provided by your smart lock. It allows you to open the door in a simple way, such as a password, smartphone, RFID card, or even Bluetooth—no key required.
No need to hide your duplicate key
Smart locks eliminate the need to duplicate keys for everyone. This is also safer than keeping multiple keys at home and can prevent burglary.
Notifications help you remember to lock the door
If you have ever left home in a hurry, you will know the feeling of worry-do you remember to lock the door when you go out? With a smart lock, you can check whether your door is locked through the app.
If you lose too many keys and you can afford to digitize, a smart lock is definitely a worthwhile investment for your diary life.
2. How Do Smart Locks Work?
Just like all locks, smart locks require a key to operate, but the key is digital, not physical. According to the different unlocking methods, the digital key can be the password, Bluetooth, RFID card, fingerprint, mobile phone app, etc.
As an electronic device, the smart lock itself needs battery power. Most Ilockey smart door lock often runs on 4 AA batteries. When the battery is low and needs to be replaced, it will notify you.
The smart lock usually contains electronic components that allow it to connect to your home Internet via Bluetooth, Zigbee, Z-wave, or Wi-Fi. This allows you to remotely access the lock from a connected smart device. You can send a password or mobile phone command remotely to help visitors open the door.
3. Types of Smart Locks?
Smart locks can be mainly classified into five categories according to different situations.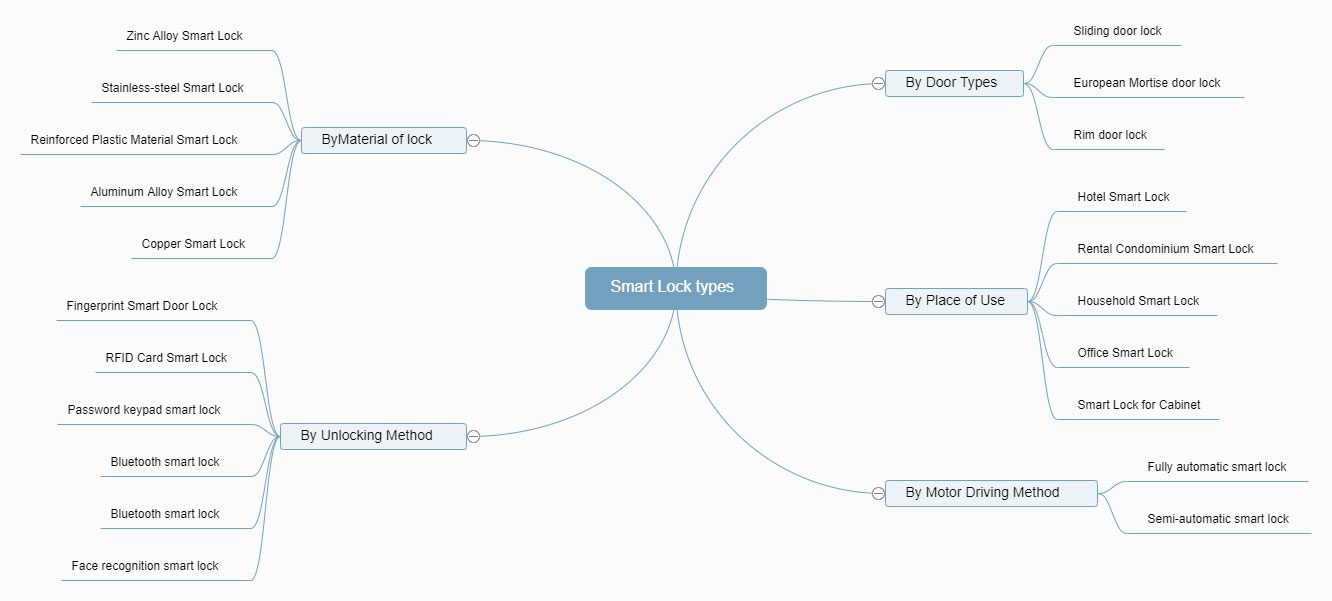 3.1 Motor Driving Method
According to the Motor driving way, smart locks can be divided into the fully automatic smart lock and semi-automatic smart lock.
Fully automatic smart lock
As long as the finger is lightly pressed, the door will automatically open, and the door will automatically lock after it is closed. It is a very convenient and fast smart lock.
Semi-automatic smart lock
After unlocking, the door can be opened by pushing down the handle, which can be said to be a widely used smart lock type.
3.1 Unlocking Method
According to the unlocking method, the smart lock can be divided into fingerprint smart door lock, RFID smart lock, password keypad smart lock, Bluetooth smart lock, WIFI smart lock, face recognition smart lock.

Fingerprint Smart Door Lock
By verifying fingerprints to open the door, fingerprint smart door locks can be divided into locks of optical fingerprint heads and semiconductor fingerprint heads.
Optical fingerprint headlocks are not affected by static electricity and humidity, but the safety is relatively low. Semiconductor fingerprint locks are not affected by temperature and have better security, but it is easily affected by humidity and fingerprint wear.
Unlocking with an RDIF card, RFID card smart lock is usually used in hotel, some home using locks are also with the function of RFID card unlocking.
Password keypad smart lock
Unlocking the door by entering a password on the keypad, password keypad smart lock is one of the classic smart locks, simple and low cost.
Unlocking by connecting the phone's Bluetooth to the door lock, Bluetooth smart lock is safer because your mobile phone also has a password lock or fingerprint lock. But many Bluetooth smart lock consumes more power, and it cannot be connected and unlocked if it is long-distance. It is necessary to connect with the gateway if remotely control requirement.
You can use your mobile phone to open the lock remotely when connected to the network. With the mobile phone become a necessity in our diary life, Wifi smart locks become a good choice for more and more people.
Face recognition smart lock
Face recognition smart lock is to unlock the door by recognizing the face. As everyone is unique, it is a safer and more convenient smart lock. However, the door opening will be affected by the recognition and distance, and the camera will consume more power.
3.3  Place of Use
According to using place, smart locks can be divided into hotel smart lock, Rental Condominium Smart Lock, home smart lock, smart lock for office, and smart lock for cabinet.
Generally, an RFID card lock is the most common option for most hotels, resorts for traditional hotel management. Equipped with hotel door lock software and a hotel door lock encoder, an RFID card can be issued to unlock.
Rental Condominium Smart Lock
Rental condominium smart lock is mainly used in motels, rental houses, apartments, Airbnb rooms. With the fast development of apartments, the functions of hotel smart locks are more targeted, including passwords, swiping cards, Bluetooth, temporary passwords, and networking.
A household smart lock is mainly used in our standard home or villa security doors. It's one of the common smart locks and often designed with many ways for unlocking.
Office smart lock is specially designed for glass doors in office, it is mainly used in shopping malls and office areas.
Cabinet smart lock is specially designed storage cabinets, it's mainly used in drawers, cupboards, various storage cabinets. It's one of the most competitive locks in Ilockey.
3.4 Door Types
Smart locks with only handles or knob are the most straightforward locks on the market because you don't need to try to match the existing door bolt or handle hardware, just replace the entire mechanism. It can be mainly classified into three categories according to different door types.
Smart locks for sliding glass patio doors have been a slow mover to the smart lock market so there are not a ton of options available today.
European Mortise door lock
Generally speaking, the European Mortise door lock can look like the handle and the door bolt are separated, but it is actually an integrated mortise-style unit. They are used on high-usage commercial doors and are increasingly used in apartments and residences.
The rim lock is the oldest locking device on the door. Its basic design consists of a surface-mounted box containing, a latch type lock and a latch. The door frame locks are easy to install because they are fixed to the surface of the door instead of fixed to the edge of the door with a mortise.

3.5  Material of lock
According to the material of lock, smart locks can be divided into zinc alloy smart lock, stainless steel smart lock, reinforced plastic material smart lock, aluminum alloy smart lock, copper smart locks.
Zinc alloy is currently the most widely used material for smart electronic door locks on the market. It has advantages of hard texture, strong corrosion-resistance, easy processing, and easy forming.
Stainless-steel Smart Lock
Stainless steel generally refers to 304 stainless steel. Stainless-steel smart lock has perfect hardness and durability, and to a certain extent, it can prevent the smart electronic door lock from being damaged by violence.
Reinforced Plastic Material Smart Lock
The reinforced plastic material smart lock is mainly used in some functional locks to avoid signal shielding caused by metal materials. It's relatively rare in the lock market.
Aluminum Alloy Smart Lock
The quality of aluminum alloy is fair in all aspects, but its utilization rate is not high in smart lock manufacturing.
Copper usually refers to brass, which has high hardness and good durability, but the manufacturing process is complicated, so copper smart locks are rare in the market.
4. Common Concerns for Smart Locks
When it comes to the safety of your home and family, you naturally think it twice to choose your smart locks. Here are some common concerns that many people have about smart locks:
Can a smart lock be hacked?
Yes, like most other digital devices, smart locks can also be hacked. But we can keep our connected smart home devices secure from hackers and electronic tampering by setting up your Wi-Fi system using security best practices.
How can I get into my home if the smart lock battery drain?
Most smart locks support an emergency power supply unlocking and mechanical key unlocking. You can use a mobile power bank to re-power the smart lock through its USB port, and then you can open the door. If the electronic part cannot work, you can use the mechanical key to open the door.
How do smart locks get power?
Smart locks run on battery power, the smart door lock battery is divided into dry battery and lithium battery. Read your smart lock manual, and it will tell you're which battery you need to use. If you don't know what battery should be used in your smart locks, you can do your own trial and error with different batteries to see which one works best for your smart lock.
Do smart locks need WiFi?
It depends on your smart lock types, if your smart lock needs internet to connect your mobile phone, it will need Wifi. But like password smart lock, RFID card smart lock, they don't need to connect to the internet, then these smart locks don't need WIFI.
Are smart locks expensive?
Common smart lock cost ranges from $40 to $300 depending on the setup and accessories you need. For home use, there is no need to choose too complicated smart locks, simple and safe is the first choice for us.
5. Conclusion
With a smart lock, you don't need to make key copies or have a spare, you'll have easier and safer methods of entry to your home. You can even set your smart lock to automatically lock the door after a set time, or when your phone leaves the current area.
If you are willing to not use the key at all, some smart locks do not even leave the key port at all, which makes it is impossible to pick. Smart locks are making our life more convenient and safer, and it's a really good choice for your home, office, hotel, and apartment.